Hi there! This week the focus of the blog was very unrelated to makeup (I hope that you didn't mind). Before I recap the week, I will be back to posting about makeup on Monday. There may also be some surprises as well (extra posts!!).
So let's recap:
On Monday, it was
my birthday
! Thank you for all of the birthday wishes on Twitter and Facebook (and in the comments, too!). My day was good, except for the fall that happened. I am the most accident prone person that I know, so it's not surprising that I fell. It just soured my mood because it was my birthday. Who wants to fall on their birthday?! I'm feeling better now.
Wednesday, I decided to share two things I rarely talked about openly on the blog. It was time for some
Real Talk about Bullying & Weight
. I am so grateful for all of the kind tweets, comments, and Facebook messages I received!! I was really worried about posting my experiences because I have always been insecure about opening up too much. I just feel that with my goals in mind, I can create change in my own life! I know that I definitely have support! Thank you, thank you, thank you from the bottom of my heart.
Friday, I posted a
FOTD
. I want to play around with more of the makeup that I have rather than just using the items I love to use every day. I want to use them up! I really like FOTD posts because you can see how the makeup looks, and I love seeing what people are wearing! Don't get me started on my love for seeing what is in people's makeup bags...... I'm so addicted!!
I want to take a moment to note that this blog hit 35,000 page views!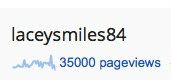 I am so emotional right now and want to thank you for all of your support! It means SO much to me, and I am so grateful!!

I have used up my Korres makeup wipes! Don't worry, I have stocked up on those. They have become must haves!
I have been organizing my makeup a lot. I know it's probably an obsession, but I love having everything looking perfect in their place. My set up has changed a lot & I absolutely adore it.
I've been tempted to buy makeup--- but I have stayed true to my word and not purchased anything! An upcoming Makeup Rehab post will be devoted to those temptations.
I have been wearing Revlon Color Stay nail polish in Pale Cashmere for the past week. I really love the color, but need to do a comparison to OPI's Bubble Bath.
I hope that you are having a great weekend!