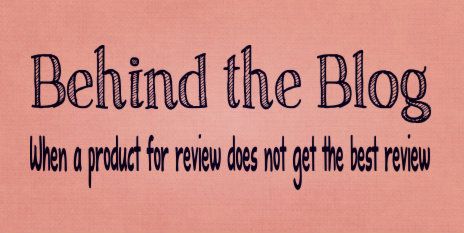 Have you ever been contacted by a company who wants to send you product for review? What if their product doesn't live up to what you expected the product to do? What if the product's application process was faulty? How can you give this product a review that is more than just negative comments?


Before I answer these questions, I want to take a moment to thank those who have let me know that these 'Behind the Blog" posts are helpful. I am so glad that you have found my own blogging journey helpful. Your comments and encouragement are beyond appreciated!

I am not speaking for anyone else in these "Behind the Blog" posts nor do I ever intend to. It is always great to hear that a company wants you to test their product out and then provide a review. Bloggers are independent beauty product aficionados that test products that are sent for review but more often actually purchase the product itself.

I want to state that it is essential for bloggers to have a clear and very detailed disclosure policy. It is not acceptable to have a tiny disclosure at the bottom of the post. To put it simply, a disclosure policy is like your blog's legal statement of what you will do and how you plan on letting your readers know, If you are going to have a tiny disclosure, please make sure that a separate page is devoted to your actual disclosure policy.

Companies will check your blog out to see if their product is a good fit. If you are contacted by a company, include your disclosure policy in the email where you send the address to where you wish the product to be sent. I think a company would be more appreciative if you are honest rather than not. A simple "this is what my blog stands for" means more than "give me free things". As I have said previously, if you are blogging to see what you can get from a company, you should not be blogging. If you are willing to sell your integrity for compensated product, then who can trust your opinions?

A blogger is being sent a product for review purposes. If you get a product for review purposes, and it doesn't measure to a good review, do not give it a good review.

There is a few ways I have seen this done:

Send an email to the company letting them know that you are unable to give a positive review and constructively say what they can improve upon in the product. Then write your review and send them links to the post/video.

In your review of the product, state that you are unable to give this a positive review and constructively say what can be improved.



I have never stated in any posts that I have a strong dislike for any product. If I do find issues with a product, I will then use this to give constructive feedback in my review.

Remaining professional is key. It is not advisable to send a profanity-laced email to the company PR. person. It just makes you look bad. What's the "beauty" in looking bad?


I hope this post is helpful! I would love to hear your feedback, and if you have any questions, please let me know.