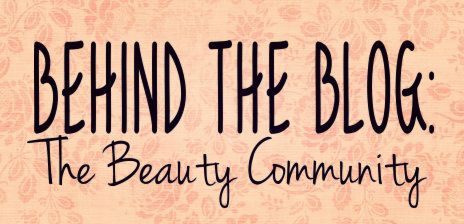 I've been thinking a lot about the "beauty community" lately and how much it has changed since I began blogging and making videos almost three years ago. I do not expect things to stay the exact same way, but I never expected to see this.

So before I continue with this "Behind the Blog" post, let me make a disclaimer. I have never held anything back, and nor do I plan on starting. With that being said, all of the opinions expressed are fully my own. I am not calling anyone out on what they do. I am proud when the content creators I enjoy experience success. I just want to be transparent with how there is a whole other business side to this community.

What are my opinions about the "beauty community"? I am going to tell you in the following ways:

How the "beauty community" is beneficial.
How the "beauty community" has become a "Beauty Business".
How the "beauty community" bloggers/vloggers have become "personalities/Public figures".


Beauty blogging/vlogging has become serious business. When I first started watching videos in 2009, it was rare to see YouTube Partners. It was a select few who had a popular following. When someone made partner, it was a huge deal. You had to apply for partner-- and it took forever.


HOW THE "BEAUTY COMMUNITY" IS BENEFICIAL:
So you want to buy that new product? Maybe someone has tried it and has made a video on it.

The "beauty community" is great for finding opinions about a product from average people sitting down and filming a video. If the person is a makeup artist, they bring a whole set of knowledge with them.

When I first began watching videos, I found myself watching people that were just sitting down to share their love of a product.

Getting word out about a product is crucial. We see advertisements and then think about the product. It is here where it gets complicated. For example, say a content creator makes a video about Product A and say that they enjoy a product. If they don't provide anything besides the fact that they love it, then are they not just providing free advertising? If content creators are just expressing the fact that they are loving Product A and not saying why, then it becomes suspicious.



HOW THE "BEAUTY COMMUNITY" HAS BECOME "BEAUTY BUSINESS"

I have said this before, but there are some companies/PR firms that will expect a positive review for compensated product. It's like this: they want you to say you like the product even though the product is not the greatest. I think it all comes down to ethics and what the content creator feels is right. I know that I am only going to give positive reviews when it's a product/company that I am obsessed with.

I am going to state this clearly and openly. The beauty industry loves the beauty community. The community has become a way for the industry to promote their product or companies. Also, some content creators are so successful that they are writing and filming full time. I am not knocking anyone's hustle. I love seeing people doing what they love.

When affiliations overpower the content, it is here where I have issues. If the content creator loves the product and purchased it, then I think that is genuine. Heck, if they didn't purchase the product and state that they did not purchase it but would go buy another, then I think they are genuine! However, if they are being compensated in some way and are not revealing that, then I question how much the content creator actually loves the product. If they do not make a statement of transparency, then I even think that it makes me not want to trust their opinions.

This is why I have changed my Disclosure Policy. I aim to be transparent in everything I write on this blog or talk about in a video. If a company compensates me through a product, I am definitely going to tell you because it is ethical to do so. If I include affiliate links, I am going to tell you because I know that it changes opinions when you are not told.

In the three years I have been writing this blog and making videos, there are networks for beauty channels and websites devoted to having a community of their own. There are content creators being represented by talent agencies. If you asked me about talent agencies three years ago, I would have thought you were joking. Now, it has happened.

How the "beauty community" bloggers/vloggers have become "personalities/Public figures"

The content creators have moved from their own personal space and have now conquered the globe! Content creators are jet-setters planning meetings and new business opportunities. The beauty community has changed.
I have made some wonderful friendships and worked with some fantastic companies. I hope to continue this in the future. The benefits totally outweigh all of the negative!
I want to clarify that this post applies to everyone. We are all in this "beauty community"- whether you make content or not. I hope that you enjoy this post. I want to hear what you think as well, so please feel free to let me know!