I am so excited to share this review with you all today. A few months ago, I found the Garnier Skin Renew BB Cream at WalMart. I had heard that BB Creams were amazing, so I thought that I'd give this a try. Garnier states that this a "miracle skin perfector" that hydrates, corrects wrinkles and imperfections, protects, evens and brightens skin tone. I was very curious to see how my skin would react to this. Some skin care products do a number on my skin.

This product does have a scent, but I did not even react to it. This says a lot because I am the Queen of Allergies ( I always seem to be allergic to everything) . If you like the smell of Garnier products, then you'll be okay with this.


There are two shades: Dark Medium and Light/Medium.

So this is what the packaging looks like: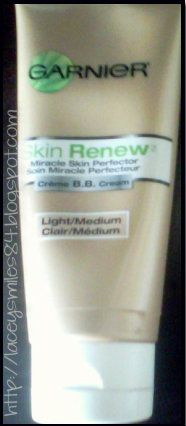 I have applied this product two ways; with my fingers and with a flat top powder brush (I use the one from ELF). I put a small amount on and blend away. I got great coverage just by using my fingers. However, when I used the brush, it was as if I had used liquid foundation. Seriously. I could not believe how amazing my skin looked!! I received so many compliments whenever I wore this. I didn't even bother using liquid foundation this summer for two reasons: it was beyond hot and why do I need liquid foundation when this BB Cream gave me not only the same result but made my skin look SO good! I have put quite the mark in this product; it makes me feel great knowing that I have not let this lie around unused!!
This product was $12 and it has become an essential product that I must have in my collection.
Have you tried any BB Creams? What are your favorites?