Reviewed in Elle, Vogue, and Cosmopolitan.

Meet the Travalo!
If you are like me and want to carry your fragrances with you wherever you go, you are going to love this. The Travalo is an atomizer; carrying your perfume with you is a breeze! Just take the removable cap off your bottle and just pump your perfume in moments. With the Travalo, you get up to 50 sprays! Carry it in your purse, or on the way to the gym. Are you going on that holiday destination? Take the Travalo with you---- as it is airplane friendly!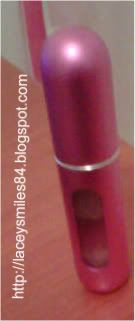 I have the Classic style. I really do enjoy how compact the Travalo is. With the holidays fast approaching, this would be a fantastic gift!
My video review!



-------------------------
This product was sent to me, but all opinions are 100 percent authentic. Please note that all opinions will be fully expressed here.