Hey there! I hope that everyone is doing wonderful. Today, I want to share with you the products I have been loving this summer. I will be doing a video on this- so you'll be able to see ALL of the products!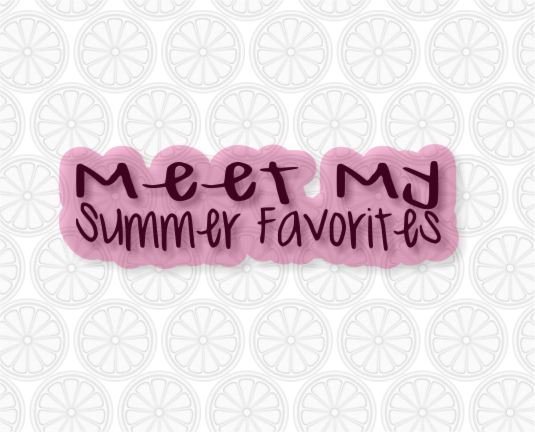 I know that this product is expensive and I would not have had purchased this if I did not have it on my list for two years. Yes, I'm still freaking out over the MAC Mineralize Skinfinish Natural in Light Plus. I am such a newbie to MAC products. I never expected that this product would become an "essential" for me. Being so expensive and not having easy access to a MAC counter or store, I thought that I'd get this eventually. I got this product while I was on vacation mostly because I wanted this for so long and I thought that I should treat myself. I just cannot get over just how matte my skin is with this product, and I love how "finished" I look when this is applied. I have made note to include this on my "beauty repurchase" list. In case you haven't noticed, I'm a little obsessed with lists.
I have been talking about this product for months, and it has become my highlight of choice. The Hard Candy So Baked Bronzer in Tiki has enough pigmentation that lasts throughout the day, and I really love how it looks. I have been using my ELF Studio Fan Brush to sweep this in a C-style fashion. I have heard that the So Baked Bronzers are comparable/ dupable of the MAC MSF'S. The So Baked Bronzers are definitely more affordable. I have only tried Tiki, but there are four shades available.
I love berry shades for the fall season! I have been looking for one for the whole summer and found it in my stash! I think makeup stashes are magic- you never know what you'll find! I feel that I have found the perfect fall shade in Wet n Wild Color Icon blush in 832E Heather Silk. It is a LOT darker and less shimmery than the Pearlescent Pink shade from Wet n Wild (another beauty love). I put Heather Silk on and I was amazed at just how pigmented this little beauty baby was. I swear you do not need a ton of this product! Just a little on your brush goes a long way. I made this mistake. I swirled my brush three times and I got enough product to last a half dozen cheeks! I am loving this blush. I have a small sample of this blush from a holiday gift set, and I am going to purchase this after I use up some of the blushes in my collection!
Keeping up with the talk of blushes, I am also loving the blush Angel from NYX. This stunningly gorgeous pink makes my cheeks dazzle! If you're like me and work in an office that is super conservative makeup wise, this blush is exactly what works. It is natural and it wakes up my face so I do not look like a zombie while at work. This is my first NYX blush, and I am sure that I will be using more after I minimize my blush collection. I have reviewed this
here
.
Concealer wise, I have been not been too experimental. I've been sticking with my tried and true: Maybelline Dream Mousse Concealer in Fair/Light and Rimmel London Match Perfection in 010 Ivory. I am on the very bottom of my fourth DMC, and have another waiting to be used. I use this to cover any blemishes, as it is way too heavy to use under the eye. So MP not only covers any under-eye circles, but since it's a 2 in 1 with a highlighter, it also brings light to that area. I love how it covers and I do not have the weird white under- eye circle look.
I am loving the Pixi Beauty Flawless and Poreless Primer. Sweet cupcakes! I love how this makes my skin feel, and unlike other primers, it does not leave my skin feeling heavy or greasy slick! Please read my review
here
. I will be sad when this product goes, because this is the primer that is irresistible!
This summer, I have been playing with more eye bases and primers. As you know, I am hopelessly devoted to Too Faced Shadow Insurance ( if it were a person, I think there would be a restraining order). I have been using this product for over a year now. I have been using NYX's Jumbo Eye Pencil in Milk. This has gotten tons of hype and it is definitely well deserved! It really helps the shadows POP! I also cannot mention my favorites without writing about Wet n Wild's Idol Eyes in Pixie. Pixie and I go way back- this is my first "essential" product, and I must always have this in my collection. It's just amazing.
I have been playing around with so many eyeshadows this summer. NYX's Champagne, Walnut, Volcano, My Favorite Color. Wet n Wild's Vanity and Lust palettes, Sweet As Candy and Walking On Eggshells trios, Silent Treatment, and the Brulee single. Hard Candy's Kal-eye-descope Baked Eyeshadow Duo in High Maintenance. Rimmel Glam Eyes quad in Smokey Brun. I also have been loving Laura Mercier Eye Colour in Sandstone (big thanks to
Loose Button
for that!).
When it comes to lip products, I have been loving way too many to name. I am going to leave that for the video because most of my lip products have been used throughout the summer.
. Thank you so much for reading, and I hope that you are all doing wonderful! Before I close-- what are YOUR Summer Favorites?