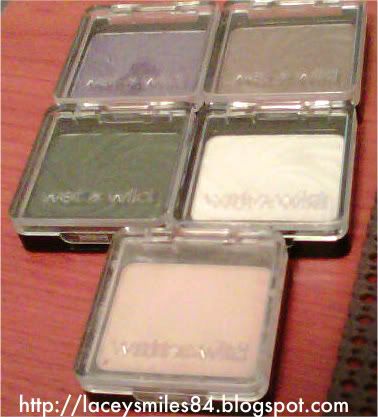 I'm working on getting a better camera..
Hi there! I apologize for being late with this review. I had some medical appointments, and please remind me to never Google anything health-related again.
Today, I want to review the Wet N Wild single eyeshadows that I have. The top two are Kitten and Nutty, middle two are Envy and Sugar, and the bottom is Brulee.
You have probably seen these everywhere. I absolutely love how pigmented these are! You really do not need to use a lot of product to get the look you want. For 1.7 g of product, these shadows sure pack a punch! My favorite is to wear Brulee as a higlight shade... so pretty! I have also been a bad girl and wore Kitten to my neutrals-focused office. These are dupes for high end shadows.
I have been a Wet N Wild fan since I was 14, and they have went above and beyond since then!
If you have not picked these up already, please do! I think that every collection needs to have these lovely, gorgeous shadows!
Have you tried any of these?