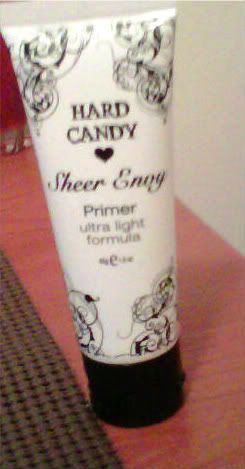 Today, I will be talking about Hard Candy's Sheer Envy Primer. I must say that I had heard great things about this product. Everywhere I looked, this product received positive reviews. This product may work for you, but it did not for me. By saying this, I am giving my feedback based on what I feel. If you want to check it out, then please do.
This primer was between seven to eight dollars which is not bad. However, I think I expected too much from this product. When I put it on my skin, it felt like my skin was not matte. My skin was slick and shiny. I was wondering what was going on. I also did not like the texture of the product when I applied it. My skin was not a fan of this, as I broke out in blemishes soon after. I put it away in my collection.
I decided to give it another chance this week. I must say that I definitely feel that this product is not for me. It does not feel well on my skin, and I do not feel that primers are for me. My skin still felt so slippery, and it looked as if I had done a whole day of errands. I looked horrible. It did not cause any blemishes this time, but I do have unrelated breakouts at the moment.
So take this review as you please. If you want to try this product, it is purely your decision. I know that the Sheer Envy Primer is not a must have for me, and I will not be repurchasing this product.
This product gets a NAY from me.