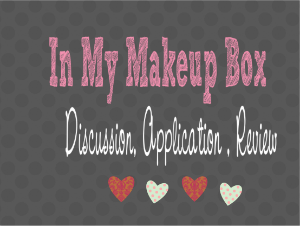 Hi Beauty Peeps! I hope that you are absolutely wonderful. This post is about a new idea that I had, so I wanted to share it with you to see what you think. Do you ever go through your collection (regardless of size) and find those long lost "I need to play with these" products? I must say that I always find so many products when I go on those searches!
This weekend, I have been compiling products that I have not tried, have not tried in awhile, or products that I want to give a second chance. I will be using these products in three ways:
A. Discussion: As the title of this heading says, I will be discussing the product; meaning what it is, size, packaging, price.
B. Application: I will be applying the product and talking about what I like or dislike about the application process.
C. Review: I will be sharing my resulting feedback.
I know that I already have "Yay or Nay Mondays" where I do reviews, but I feel that I have been lacking in the video department lately. In case you are wondering what my blog series is, here it is:
Yay or Nay Mondays
Tag Tuesdays
What's On My Face Wednesdays
Talk About It Thursdays
In My Makeup Bag Fridays
I have been spending a lot of time lately reworking my schedule, as I know that I could do so much better when it comes to blogging. I do not do very many tag posts, so I could always re-name Tag Tuesday into In My Makeup Box Tuesdays.
So I am asking you beauties, do you like the In My Makeup Box idea? How often would you want these videos; every Tuesday, twice a month on the Tuesday of that week, or once a month?
Thank you so much!
xoxo
PS. I am also thinking of doing something extra special very soon.........