Hi there! I hope that you are all doing amazing. I am writing to let you know about an awesome company called Loose Button. I found this company on Facebook and was like, "What is Loose Button?" According to their
website
, Loose Button is a monthly subscription service that gives you 3-5 deluxe beauty samples. The box comes right to your door. Whenever I get a package, I
always
have to make the trek to the post office. I was so surprised to see the package in my mailbox!

I must comment on the AMAZING customer service at Loose Button. Each and every question that I had was answered. Not only did every email I send was acknowledged, but they were replied to efficiently and with great care. I think they must work around the clock because I cannot get over how quickly my questions were answered! Plus, they are superbly quick with answering questions using social media. I have also read other questions/comments, and the team at Loose Button treat you like their dearest friend. Canada Post has been striking, and I am so pleased at how fast Loose Button has been shipping out these Luxe Boxes!
So onto the Luxe Box! This is the June Luxe Box. I was so excited that I opened the Luxe Boxe before I took pictures. Sorry!!!
Seriously, how freaking cute is this?! I swear I cannot stop gushing at the prettiness of the packaging details!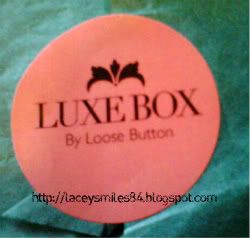 The seal.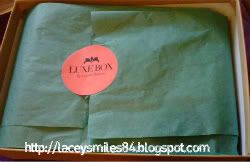 I am beside myself at how "Luxe" this "Box" really is!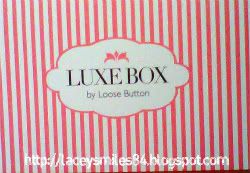 The card that details what products you are receiving this month. They also wrote me a little note with my name on it- I think that shows they really care when they write you by name!!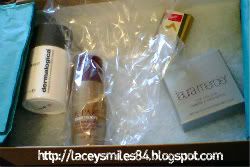 What I received! I had to put the Joico Colour Therapy Restorative Styling Oil in a plastic baggie because it leaked a little.


Product details:
Dermalogica Daily Microfoliant: Considered one of InStyle's Best Beauty Buys, this rice-based enzyme powder helps to exfoliate your skin by removing debris, leaving your skin smoother and brighter. Contains no artificial fragrance or color; good for all skin types. Retail Value: $72

I need to keep an eye on this as I seen my mom eyeballing this; don't worry, I will share! You should have seen her reaction when I told her it's a skin care item--- she LOVES skin care products.
Joico Colour Therapy Restorative Styling Oil: A hydrating oil that brings life back to dull, lifeless hair. Made from a blend of Manketti, Argan and Evening Primrose oils that seal and nourish the cuticle to lock in color. Also great for treating frizz and reducing drying and styling time. Retail Value: $26
Laura Mercier Eye Color in Sandstone: A non-dusting eye color that is easily layered and sheered. Experience the freedom of a long-wearing crease-resistant product tat glides on evenly every time. Micronized pigments deliver deep colour release in one stroke.

The Laura Mercier color was an upgrade to a full sized product! The retail value is $22.
Thank you, Loose Button!
I am beyond pleased with the Luxe Box from Loose Button! Great company, great products, great value! Oh and they gave me a chocolate too-- this company definitely knows how to go after my heart!
------------------------


ETA (June 13th): I was asked in the comments about an order placed May 30th and if they will receive the June or July Luxe Box. I have received a reply (Donnie, you are awesome!):
Thank you for forwarding us the question. Unfortunately the June Luxe Box deadline was May 21st, and so all orders after that will be applied to the July

Luxe

Box. Don't worry though, the July Luxe Box will be just as awesome!
Agatha, I hope that this helps.