I thought I would only pick up a few items. A few items turned into several.
So here is some of what I picked up:
(Excuse my mess... I had a lazy day)
NYX Jumbo Lip Pencil in Hazelnut
NYX Jumbo Eye Pencil in Pots & Pans
NYX single eyeshadow in My Favorite Color
Annabelle Leopard Bronzer in Jungle Belle
Almay Pure Blends eyeshadows in Petal and Steel
Maybelline Lash Stiletto Mascara in Brownish Black
Sakroots Peace Print makeup bags.
I found a new collection from Annabelle Cosmetics. It's the Jungle Belle collection; from what I have seen, it's very pretty. Here's the bronzer!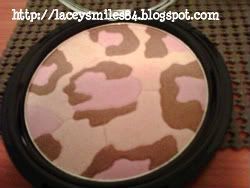 I think it looks like a dupe for the Too Faced Pink Leopard bronzer; TF is $28 US and I paid $12.99 for the Annabelle one. So if you can find the Annabelle one, you can save money!!
I have three other goodies to share with you, but that will be in a video!!