Today, I will be talking about the Hide and Glow Cheek Tint from Hard Candy. I love Hard Candy products. When I seen this I was really excited. I knew that I had to share this with you.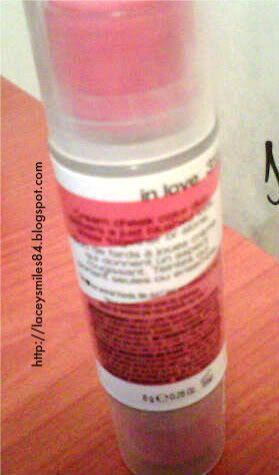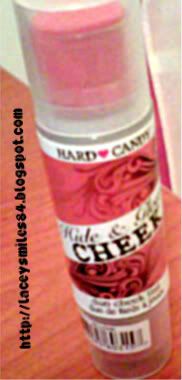 (I need better lighting!)
This is what Hard Candy says about their Hide and Glow Cheek Tint
A cheek tint that brightens cheeks for a just pinched natural flush. Lightweight formula blends evenly into skin and lasts for hours! Two perfectly coordinated shades - wear alone or blend together.
I got the shade "In Love", but I cannot say that I am in love with this product. (I was really hoping that I would love it though!) In my reviews, I want to be honest and share my opinions on the product. I always want to say what I mean and not gloss over the issue.
For me, this product does not even show up. I repeatedly applied it to my Casper pale skin. It hid very well. For the sake of pigmentation, there is none. Hard Candy got the "Glow" right, because it is very shimmery. I do not feel that this product lasts for hours. It lasts about twenty minutes. I am also finding that I am not liking the product packaging. Now, I do love the labeling of this product. I just do not feel that having the two tint shades on each end is beneficial; what a waste of the middle! This product is 8g- but the tint is smaller than the size of the cap!
I paid $5.99 for this product. I definitely do not think it is worth the price considering the lack of pigmentation, how short the product lasts, and the packaging of the product. I feel as if Hard Candy should have put the shades in two separate tubes with pigmentation and the full product in each tube. This product gets a "NAY" from me.
I wanted to do a comparison: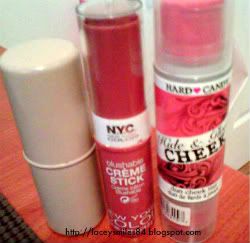 On the left is Jane Blushstix with 11.34g of product. In the middle is NYC Blushable Creme Stick with 8g of product. These are both filled with product and pigmented!!! I paid $3.97 for the NYC Blushable Creme Stick and got more product worth.
You cannot love a whole brand of products, right?