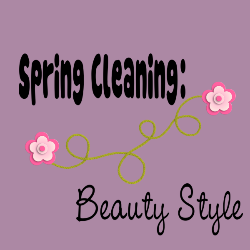 If you stepped into my room sometimes, you would not think that I love to be organized. I really do like having a place for everything; not only to help me find it better, but it just looks better when you walk into a room and it is neatly organized. I think I have a preference over my own organizational style as I am not too fond when someone moves something on me!
Come springtime, we all have cleaning to do. While thinking of this, I thought what about doing Spring Cleaning--Beauty Style! This week's "Yay or Nay Monday" is about the adventure so far.
I have two four drawer organizers and one three drawer organizer. I use the three drawer one for products I use every day, and then one of the four for products I use more frequently, and the other for other products or back ups. While this does not seem to be too bad, it gets worse. I tried to divide products by brand and I feel that it is here where my organization is not working for me. Second, I feel that I am like a makeup squirrel. I haul makeup like a squirrel hoards nuts. I always want to try new products. I look through my collection, and I think, "Hey, I did not know I had this". Is that terrible or is it just me?
Last night, I decided to go through and see what I could get rid of and see what I can give a second chance to. I eliminated a bunch of products, and I have found my second try products. I am going away in August, so I have decided to shop my collection until then. I can buy products when I go away. I still have some products coming (but they were ordered before this decision-- do you want me to review those?).
I still have one more section of drawers to go through, so I feel that will be an upcoming task between schoolwork.
I totally recommend going through your collection and seeing what products you no longer want or what products you want to give a second try to. You never know what you may find!
Have you ever went on a no-buy/shop your collection? How do you fight your haul urges? Any tips or suggestions? I'd love to hear them!
Don't forget to enter my giveaway on the
My Memories Suite
digital scrapbooking software
here
. It's for Version Two. I'm really excited about this giveaway, so I hope that I do not sound too pushy! I apologize if I am.
If you are looking for makeup giveaways-- I'm working on that!
You can also find me on Facebook and Twitter-my links are on the side.
Happy Memorial Day to everyone in the USA.