For this "Yay or Nay Monday", I will be reviewing the NYX trio in Aloha/Mink Brown/Deep Bronze.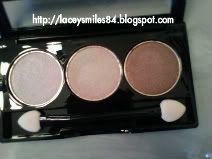 I purchased this trio at a drugstore near my internship. Price-wise, it was $9.99. For three colors, I do not think it is terrible value. This palette comes with a light shade, mid-tone shade, and a dark shade. The colors blend smoothly, and are perfect for a neutral eye. For added pizazz, I added NYX's single eyeshadow in Iced Mocha in the tear duct and half of my lid, and it looked freaking gorgeous! My mother was like "What did you do?!" She never raves over my makeup. So when she does, it's pretty neat. By the way, she also has this trio. She kept asking me, "What do I do with this?" So, I may need to create some looks for my Mama!
I really like this trio. I am really pleased with NYX so far. I think my single shadow in Walnut may have a rival--- its name is Iced Mocha!
This trio is sleek, luxurious, and just all out gorgeous. I give it a "YAY"!!!!!!
You can get this palette through the NYX site.
NYX Canada
or
NYX USA
I'm including both, and could not access the US site until the other day. You can also purchase them at
Cherry Culture
.
Thank you so much for reading, and hope you are doing wonderfully!
This post includes an affiliate link. Any sales garnered from affiliate links will be put back into this blog. I am fully aware how people view affiliate links, but the benefit is to support the blog. Thank you for understanding. -Lacey