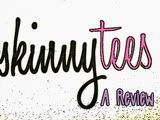 (Hey Skinny Tees- I love your logo!



If you're anything like me, you love companies with fantastic customer service. I want to share a company with you that I think has amazing customer service. Skinny Tees is a women's clothing company that specializes in the finding perfect tank. However, they have dresses, leggings, and a variety of tees! I absolutely love the style of Skinny Tees!
Are you a plus sized girl like me? You do not need to worry about Skinny Tees-they've got you covered!
Here's what Skinny Tees says about the tank I received:
What can we say? Everyone loves this updated classic. Skinny at its finest!
92% Nylon - 8% Spandex. Machine or hand wash in cold water and hang dry. Avoid using dryer and no need to iron.
I received a Skinny Tees Shirred Spaghetti Tank in Fuschia for review purposes. I was so excited to see the tank. I confess; I'm a mailbox stalker. I am so in love with how Skinny Tees wraps everything with such detail and love.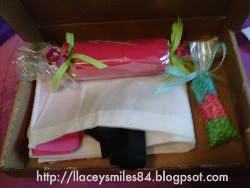 Look how pretty!!
I did not want to unravel the pretty ribbons. I could not get over the care put into the packaging. This attention shows that the company values their product and values you as a customer.
So how's the tank? The tank is fantastic. I have been having such a hard time trying to find a tank that is perfect for layering. I have looked everywhere with no success. Well, I have found the best! I swear this is going to look so good with so many pieces. I have worn this with my boyfriend cardigan. It looked awesome! The tank is thin so that you do not need to worry about a bulky tank. Another benefit is that this tank is long. The tank is perfect for every women of all ages, and can easily be customized. They also great for pregnancy!
The tank! I haven't done laundry... onto that!
I absolutely recommend Skinny Tees! I feel that the tank is of great quality. Skinny Tees has provided a great fashion staple.
Visit the link below to check out Skinny Tees!
I assure you that you will not be disappointed! I'd love to hear what you order.