Today for the Yay or Nay Monday, I am giving you my thoughts on the Urban Decay Vegan Palette. With six beautiful shades, Urban Decay lists this product as being
$34.00 US
. I got this palette last August and it was $49 Canadian at Sephora. I used a $25 gift card toward this purchase.
Here is what the Urban Decay
website
says about this product:
It's our first 100% vegan palette... in six shades even a carnivore would love.
Six of our best-selling shades also just happen to be vegan. Herbivore or carnivore, you'll swoon for this palette!
Here are some pictures! I know the pictures are small, and I apologize for that.
Look how super cute this is!!!!! I love the artwork!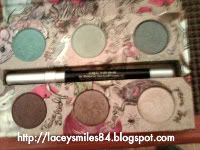 left to right on top: Minx, Urb, Gunmetal
left to right on bottom: Twice Baked, Smog, Half-Baked
eyeliner: Zero
The packaging: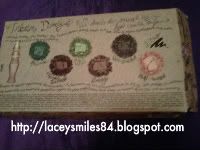 I really like this palette. I think it is a great price considering that a single UD eyeshadow is $17 US, so you are totally saving money. The shadows go on very smoothly, and are beyond pigmented! They really are amazing. Smog is my absolute favorite. I just freak out over this color.
This palette comes with a little UD Primer Potion. I really liked the addition of the PP because it really makes your shadows stay absolutely put. I had not tried the UDPP until this palette. It also comes with the famous Zero eyeliner, but I do not use eyeliner. I have heard that it is fantastic.
This is a
YAY
product for me. If you tried this palette, let me know what you think!