Welcome to What's On My Face Wednesday! Here is the look that I am wearing today.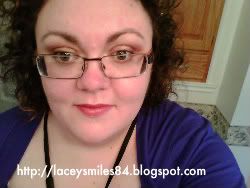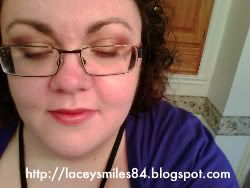 The products are:
Revlon Color Stay Foundation in Combination/Oily 110 Ivory
Hard Candy Welcome Matte Mattifying Powder
Hard Candy So Baked Bronzer in 129 Tiki
Maybelline Dream Mousse Concealer in Fair
Maybelline Instant Age Rewind Double Face Perfector
Hard Candy Eyeshadow Primer
Hard Candy Kal-eye-doscope Eyeshadow Duo in High Maintenance
Wet N Wild Mega Plump Mascara
NYC Ultra Moist Lip Wear in 330B Truffle
I know that the pictures lately have been small since the layout changes. I am going to post my "What's On My Face Wednesday" pictures on my
DailyBooth
page, so you can see the pictures in their full force.
Hope that you are all doing amazing! What products are
you
wearing today?