I know that I did not write on Thursday and by the time this is posted, it will be almost Saturday. Sorry! I did purchase some NYX products while I was on my lunch break from my internship.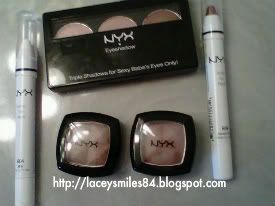 Jumbo Eye Pencil in Milk, Trio in Aloha/Mink Brown/Deep Bronze, Jumbo Eye Pencil in French Fries. On the bottom are two eyeshadows: Iced Mocha and True Taupe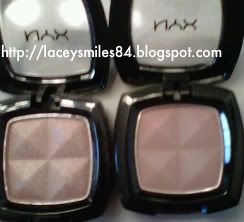 On the left is Iced Mocha and True Taupe is on the right.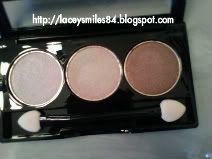 I loved this trio so much that I picked one up for my mom. I also got a Mega Shine Lip Gloss in True Star ( I forgot to include it in the pictures).
I went into the drugstore near my internship, and I swear that I could not stop shaking. I was that excited! The NYX display was two sections. I could not stop staring; as if I was in makeup heaven or something. I am really hoping that some sales occur there soon---- because there's so much more that I want.
Oh darn it! I put myself on a no makeup buy until August. Why did I do that just when an awesome brand such as NYX comes into town? It's called "Hey, I literally have no more room to purchase anything and my mother will give me the death glare if I buy more". For real. I have so much to try out so it's not fair to keep buying more. Also, it's not cost-efficient!
I may have purchased something since then---it's our little secret!
I think my room does not have the best lighting. The pictures always look so drab, so I took these pictures in better lighting!
This week, my makeup hasn't changed much since last week's. Sad, but true. I usually just do the same office friendly neutral look every day.
In other news, I start back to school on Monday. I am still going to post. It may be not as frequently or there may be two blogs combined on Mondays and Thursdays. I have three classes, with one of them only being a month and a half long. I am in the last month of my internship, and I'm also working. I am not saying this to sound like a whiner. I'm just letting you know in advance if I do not post as frequently.



Hope that you are all having a wonderful weekend!